The trip to the world championship of brennball in Umeå in 1998
---
Now we have almost got used to travelling to Umeå to the world championship of brennball: in 1998 it was the third time that our team "Würzburg Besserwisser" took part in this tournament. Like in 1997 we were so many players that two other teams, "Würzburg Besserschmidts" and "Alles wird gut" (a women's team), joined the trip. By the way, the names "Besserwisser" and "Besserschmidts" are taken from a proverb about the Germans: Germans always know everything better than others do ....
It is easier to take part in the world championship than you might think: every team which is enrolled, is allowed to take part; the complete tournament is played within three days.

As a preparation we decided to stay in the middle of Sweden for a few days, where in the end of May it is more springlike than in Umeå in the North and, of course, we played brennball (just one team consisting of players of the "Besserwisser", "Besserschmidt" and "Alles wird gut" teams). We were something like exotic foreigners at the tournament in Högsater, a small town with just 1000 inhabitants. Only 64 teams took part, mainly coming from Dalsland and surrounding areas. The organizers of the tournament welcomed us in a very friendly way, they even hoisted the German flag, just for us.
The tournament started with a gratifying victory. Only our second opponent "A-laget" played as well as we did: we lost with one point behind. Of course, we were quite annoyed and disappointed, and thought to have lost the chance of winning in our group. The third game was won by 60:6 points. As "A-laget" lost its last game we did win in our group and had a place in the last sixteen. Then, we played a team, the future winner of the cup, and lost by 39:44 points.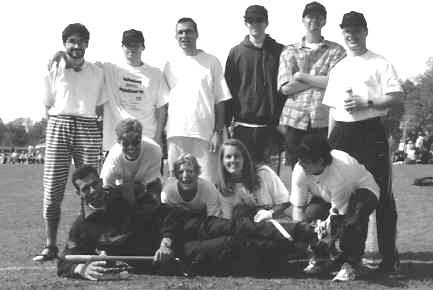 This, all in all, positive outcome raised our hopes to be more or less successful at the world championship. After a travel of 950 km to Umeå we first allowed ourself a day off, canoeing on the river Sävarän. There was nothing but nature and animals like beavers, elks and a lot of seabirds of unknown names.
The world championship began with the games of the "Besserwisser". Playing in rainy weather we could not think of a success similar to the one we had in Högsäter: many unsuccessful attempts in batting due to nervosity cost us many points. The "Besserwisser" lost both games in its group and dropped out.
The women-team "Alles wird gut" - playing with a colourful 'warpaint' and reinforced by some friends from Umeå - was more successful and so was the other mixed team "Besserschmitts". Both teams were able to win one of the two games, but lost the other. As their winning opponent won their second game as well, they could not win in their group.
Although we played quite unsuccessfully (we had expected more) we enjoyed the tournament very much and gained a whole host of new impressions. As usual, the most interesting thing was to watch other teams playing, many of them were wearing imaginative costumes. One of the darlings of the public were "the Phantoms", a team by which the spectators were filled with enthusiasm not only because of their costumes, designed after a comic, but also because of their ability of playing at a very high level and fooling around at the same time. Of course we watched the games of "Hagbard slår runt" in their viking costumes, who were the winner of our tournament in Würzburg in 1997.
After an exciting final - the very last blow decided the game - we had to take our leave from Umeå. It was a wonderful journey packed with impressions.
Ulrich Kraus
---

Schülerladen- Schülertreffpunkt e.V.
21.7.2000